New in Moodle 2022/23 AY
We made Single sign-on available in Moodle - if you are logged in to O365 in your browser, you can quickly log in to Moodle with the Microsoft button at the bottom of the login box:





The

Learning Components

can be used to add structure and visual appeal to a Moodle course.

This can be found in

the

text editor with the icon:

New course header images from the Vienna campusDetails
A new, basic activity is available, which enables the functionality of Padlet in Moodle directly. It also enables an easy way to vote on posts by students.

Details
Redesigned gradebook navigation to make it easier for instructors to find the relevant menus from the dozens of options.

New features - Moodle 3.10.4

1. Course group messaging
The messaging interface is redesigned, and there is a new possibility to create group chats - where all members of a course group will have a shared message tab, similar to Teams.
- Group chats will not send out emails for posts
- It can be used for text, emoticons and links, file submission is not possible
How to create one?
Go to the participants menu of the course, and select the "create messaging group" link at the top. You do not need to change the settings, just save - a new group will be created in the course and every user will be assigned. You will find the group chat for this group if you visit messaging - every user will see it and can post messages to the others.
2. Archive Content
It is possible to make courses / full categories "read only'", so any (accidental) changes can be prevented, no new users can access the course, etc. Contact me, if you are interested.

3. New functions for forum activities
Forums are the most commonly used activities in Moodle, and it vastly improved with the new Moodle version.

New settings are available, making the forum a transparent alternative to assignments:
- Due date available
- Grading for the whole forum is possible
- Turnitin can be turned on for Forums as well - please note that this setting would send all text messages / files to Turnitin, so this is recommended only for really specific forum.
This setting makes it possible for Instructors to use hidden forums now to quickly send files into Turntitn themselves.
- The contents of forums can be exported (downloaded) now.

- New forum type - Anonymous forum:
You can find this new activity at the activity chooser.

A great way to use anonymous posting is when you want students to ask questions around exam materials or around points they find confusing. This can help students feel more comfortable engaging and seeking help. Anonymous posting hides the author's name (teacher and students) for posts in the forum. Teachers can choose to reveal their identities in posts by checking the Reveal yourself in this post when creating or replying to a post. You can select this option for individual posts and remain anonymous in others.
4. Download course content
You can enable this function at the "course settings" menu. This will enable students (and instructors) to download all course contents readings, text, activity descriptions in a Zip file.
https://docs.moodle.org/310/en/Download_course_content

5. Consistent my courses list
The choices made at course list at the dashboard (hiding courses or filtering courses for academic year/ category) is now also represented in other "my courses" lists on the site (left drawer menu, top menu).

6. Hidden registered courses are shown in the course list for students
Hidden courses from the current Academic Year will appear at the students` course lists at the dashboard as well, to avoid confusion with SITS registration. So the newly registered courses appear on the list of the students but cannot be opened until published by instructors.
7. Redesigned Activity chooser
The Activity chooser is changed (add an activity or resource). The list is separated by tabs, the recommended tab is the default, which contains the most commonly used resources and activities. Instructors can favorite activities with the star icon, which will create a new tab.
Details: https://docs.moodle.org/310/en/Activity_chooser

8. Gradebook - changed final grade format
The "final grade" format is changed in the gradebook to represent the CEU grading scheme - so the automatic calculation in Moodle will be transformed from points to percents + letter grade. The individual assignments are unaffected by this change.

Example: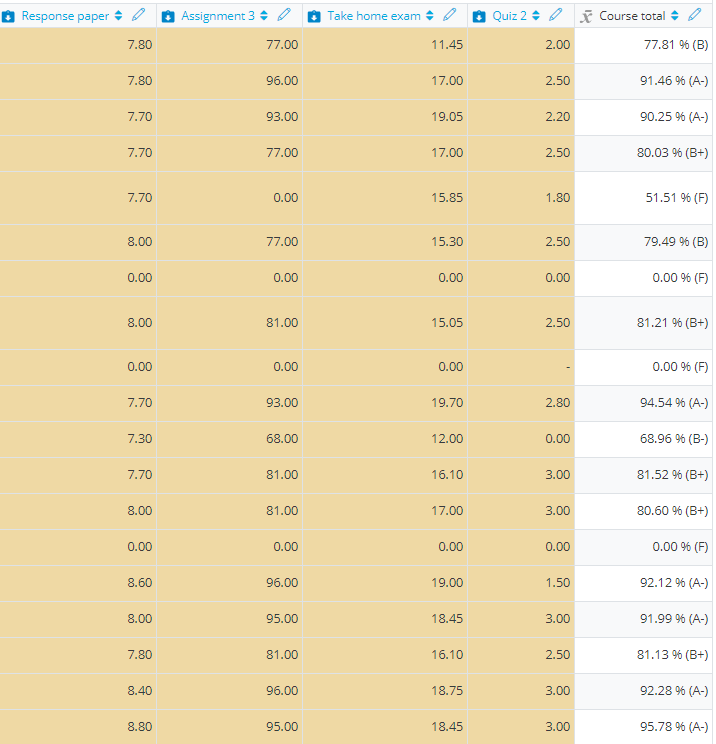 ---
All changes:
https://docs.moodle.org/36/en/New_features
https://docs.moodle.org/37/en/New_features
https://docs.moodle.org/38/en/New_features
https://docs.moodle.org/39/en/New_features
https://docs.moodle.org/310/en/New_features
Previous changes archive
Last modified: Monday, 5 September 2022, 4:57 PM