Students Faq - general technical problems
Enrolled in courses in SITS, but can not see them in Moodle
Please check the following, if you do not find a course you registered for in Moodle:
Some courses are not listed in Moodle at all. Foreign language courses, field trips, thesis process, Ta-ing, etc. may not have a Moodle course. Please ask your coordinator about the course.
If this is a "normal" course, but none of your classmates can find it in Moodle, it may not be connected to SITS yet. Please ask your coordinator/professor about the details.
If your classmates can access the course, but you still cannot find it, check the questions below:
a) Did you register on the course a few minutes ago in SITS? Please log out from Moodle and log in again to force the sync.
b) Check if you are filtering for specific categories at the dashboard (If you filter for History/Fall term, courses offered by other departments will not show on your lists - you can still find them in the folders manually)
If you filter for a specific department/folder or AY, change your filter options to ALL.

c) Did you change your CEU email address recently? If so, please write to the SITS support, and ask them to change your username in SITS as well.
d) If you had a CEU account earlier (with a different role or department), it may happen that the two systems can not connect properly. Please write to helprequest@ceu.edu and ask for an username update.

e). Check your registration again in SITS.

SITS registration process:

You need to click the Submit Selections button to make your registration finalized.
After this is done, you need to log out from Moodle and log in again, then check the "My recent courses" list.
Please find detailed help below:
1.step

On "My Student Page - Academic" click on the "Course Registration" tile to start your course registration.

2.step
Select your courses. Then to finalize your course registration you MUST click on the "Submit Selections" button because this will ensure that the system records your registration. Selecting the courses is not enough to complete the registration process you need to submit it.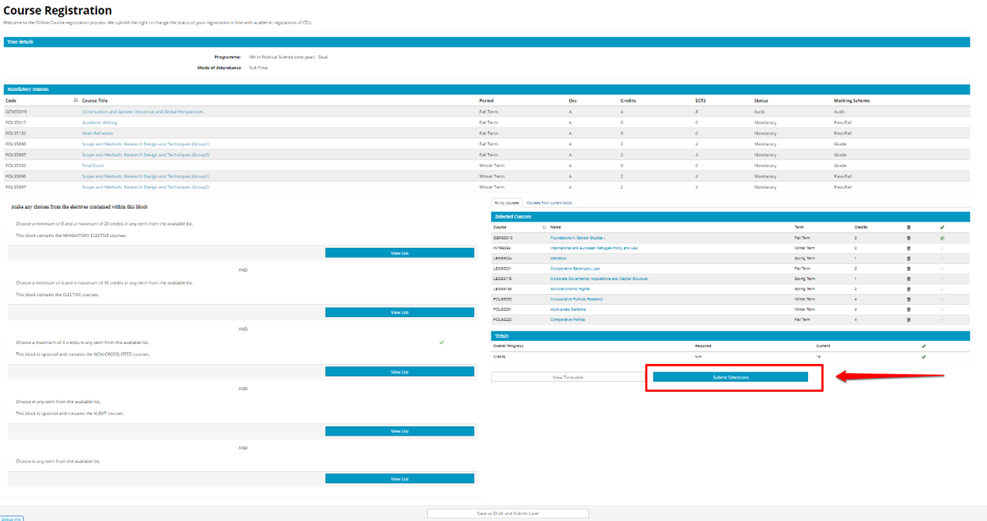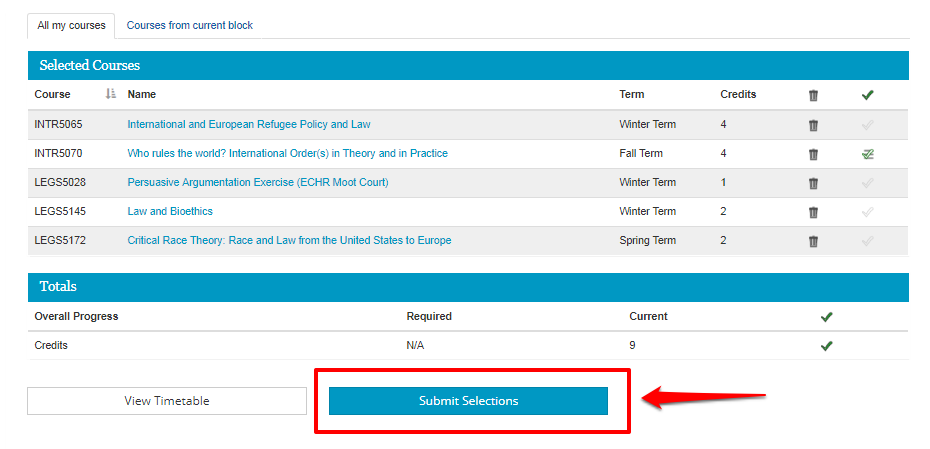 3. Step
To make any changes, click on the "Modify Registration" button. You will be directed back to the course registration site where you can still make modifications (add or delete courses) until the end of the registration period.
After modifying your courses make sure that you click on the "Submit Selections" button again!