Students Faq - general technical problems
Do not want to receive email messages from Forums
1. If your professor did not prevent if, you can unsubscribe from any particular forum, or single forum discussion if you open it, with "unsubscribe from this forum".

Usually you can not do it with the "main course forum".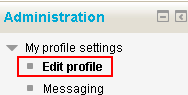 2. You can find the emailing options if you edit your Profile.
a) Forum auto-subscribe: If you select Yes, once you've posted to any Moodle forum you'll be subscribed to that forum and notified of all posts to it.
b) Forum tracking: If you select Yes, Moodle will highlight posts that you haven't yet read.


The default option is (no digest) Getting one email for each forum post is useful because
c) Email digest type:
each email has a helpful subject line including the module it has come form

it is clear which staff member is sending the message
OR you can change to digest mode (daily email) - only one email a day, in a digest.
This is useful because you only get one email a day
Warning: you may not see it as important (always read such emails)
The emails from the Main course forum are mixed in with emails from other forums and you may have to read carefully to pick out the important messages

It only comes once a day (around 5-5.30 pm) so any messages which require immediate action may be received too late (e.g., last minute cancellation of a lecture).