Frequently asked questions by course editors and quick videos about common administrative functions of Moodle
Create Activities (give tasks to students)
Important Forum settings (post, emails)
1. Who will receive email messages about posts?
a) You need to check the "subscription" (email notifications about posts) option of the forum
When a person is subscribed to a forum it means that they will be sent email copies of every post in that forum. (emails are sent about 2 or 30 minutes after the post was first written depending on the editing delay).
Open the forum, then check the " Subscription mode" in the Forum administration block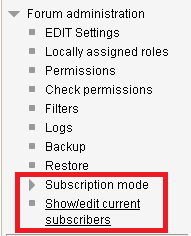 People can usually choose whether or not they want to be subscribed to each forum. However, if you choose to force subscription on a particular forum then all course users will be subscribed automatically, even those that enroll at a later time. This is especially useful in forums towards the beginning of the course (before everyone has worked out that they can subscribe to these emails themselves).

If you choose the option "Auto Subscription" then all future course users will be subscribed initially but they can unsubscribe themselves at any time.
The default option for created forums is "Optional Subscription" - users will not be subscribed by default but will be able to subscribe themselves.

The default is "forced subscription" for all "Main course forums".


Important note about changing the subscription: This setting will not unsubscribe existing participants !
Changing from "Auto Subscription " to "Subscription disabled" will not unsubscribe existing users, it will only affect future course users.
Changing to "Auto Subscription" WILL subscribe existing course users however. You can alsosubscribe/unsubscribe existing users manually..
Step 1. Go to the forum.
Step 2. Show/Edit current subscribers (bottom at forum administration)
Step 3. Turn editing on (this button only affects this page)
Step 4. Select the users and use the add/ remove buttons to subscribe/unsubscribe them.

b) Students can change their priorities about emails at their own profiles. Details

c) It is also possible to subscribe just to selected topics of a forum.
By default, if any particular student starts a discussion, they subscribe on that discussion by default so they will receive an email message if anyone responds to that topic – but no one else.
---
2. Students can not find the forum
a) Check if the forum or topic is hidden. Details

b) Did you change any settings of the forum? Edit settings (Turn editing on > Edit> Edit settings) and check if:
Restrict access is enabled

Available for Group members only is enabled by accident in "common module settings"
---
3. Students can not post to the forum
Did you change any settings of the forum? Edit settings (Turn editing on > Edit> Edit settings) and check if:
You changed the forum type to Q and A forum (For this type, teachers have to start the discussion with a question)

Changed the "post threshold for blocking" option