Invisible University for Ukraine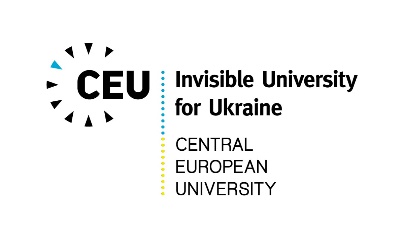 This is a certificate program (offering ECTS credits) for junior and senior undergraduate (BA) and graduate (MA and PhD) students from Ukraine, whose studies have been affected by the war, whether still residing in Ukraine or in refuge. The name of this transnational solidarity program evokes the various nineteenth and twentieth-century underground and exile educational initiatives in Eastern Europe, as well as the tradition of Invisible Colleges formed after 1989 in the region. This hybrid non-degree academic program is an emergency response to the consequences of the war in Ukraine, and is meant also as a pilot project for a more inclusive transnational concept focusing on students and scholars at risk.
The program offers an intensive learning experience, placing questions relevant for Ukrainian students into a transnational comparative perspective. It aims at familiarizing the students with various cutting-edge interpretative paradigms and methodological traditions in the humanities and social sciences. Our goal is to prepare students for deeper integration into the international academia and broad ongoing discussion on the role of Ukraine in changing European and global contexts. The program is not meant to replace or duplicate the existing online education in Ukrainian universities, but to support them and provide help for filling the lacunae that temporarily emerged due to the Russian military invasion.
The program is designed in a hybrid format (online teaching with a possibility of shorter on-site visit to Budapest in the form of winter and summer schools). The program is implemented by Central European University (Budapest Campus), in cooperation with Imre Kertész Kolleg, University of Jena, as well as other Ukrainian (Ivan Franko National University of Lviv and Ukrainian Catholic University) and global university partners. CEU joined the Ukrainian Global University initiative; we also seek to expand partnerships with universities in Kyiv, Dnipro, Kharkiv, Odesa and other Ukrainian university centers.
IUFU is supported by the Open Society University Network, with co-funding from the Deutscher Akademischer Austauschdienst (DAAD), as well as the as well as the Porticus Foundation, the Institute of International Education (US), and the John D. and Catherine T. MacArthur Foundation.
IUFU students also edit their own web journal: https://visibleukraine.org
The program categorically excludes any cooperation with scholars having current affiliation with any Russian state institutions or anyone supporting the Russian aggression. Some prominent Russian colleagues who protested against the Russian invasion in Ukraine, gave up their position, and emigrated, after being targeted by the authorities for their critical stance, will also contribute to co-teaching some of the classes. Also, some current CEU PhD students of Russian background who publicly condemned Russian invasion in Ukraine will take part in the additional small group seminars.
Personnel and Organizers
Director
Ostap Sereda, Associate Professor in History at the Ukrainian Catholic University in Lviv and recurrent guest professor at CEU.

Welcoming word from the director (Panopto video): https://bit.ly/3EWN4nL
Main Organizers
Coordinators
Ágnes Kinga Páll, CEU DI, Project Manager
Yevhen Yashchuk, main Student Coordinator
Nataliia Shuliakova, Student Coordinator
Olha Stasiuk, Student Coordinator
Svitlana Dovhan, Student Coordinator
Kateryna Lysenko, Contracting Coordinator
IUFU offers a
trans-disciplinary core course
that can be taken by students with different backgrounds and six further courses in
four thematic tracks
(History, Culture and Heritage Studies, Society, Politics and Law). Each course consists of
12 sessions
(100 minutes); equal to 4 ECTS credits. Courses will be taught online in late afternoons (Central European Time) once a week per class.
Mentoring
and
Academic English
classes are open for those who take at least one thematic course or the core course.
The duration of the Fall semester classes is 25 September - 15 December 2023. The most motivated and successful participants will have an opportunity to participate in a Winter School on CEU's Budapest campus in January.
MENTORING:

Director – Marsha Siefert
Assistant – Oleksii Rudenko
Academic ENGLISH: Irina Matkovska, Robert Gulyas, Jordan Voltz, Julia Füredi
Read more on the program: https://www.ceu.edu/non-degree/Invisible-University